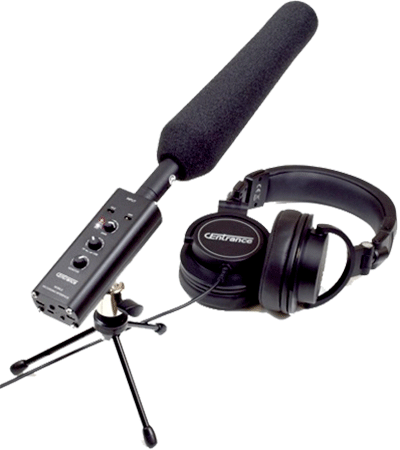 CEntrance has announced the MicPort Pro 2 mobile recording interface, aimed at creating professional audio content for podcasting, voiceover and games.
Improving on the performance of original MicPort Pro, MicPort Pro 2 is a portable professional recording interface for laptop, tablet and smartphone. The new model includes CEntrance's Jasmine mic preamp, with lower noise and higher gain, adds an internal rechargeable battery to allow recording with phones and tablets, and has a standard camera mount. Able to connect any pro microphone to a tablet or smartphone, MicPort Pro is optimised for content creation on-the-go.
MicPort Pro 2 features a switchable high pass filter, 48V phantom power and a rechargeable battery with more than six hours operation with a typical condenser mic. The interface mounts to a mic stand or a small tripod and offers tactile controls for impromptu recording sessions.
MicPort Pro 2 works with professional-grade microphones and dramatically improves audio quality over typical USB mics for working remotely or in the studio. It additionally features a high-quality headphone amplifier.
'Top voiceover talent choose CEntrance products and MicPort Pro is a well-known solution for broadcast, podcast and live streaming,' says CEntrance CEO, Michael Goodman. 'The new model lets you leave the laptop behind and record to your phone. Now you can you travel light and file your professional-quality content from anywhere. By popular request, we've also added a soft-knee limiter that catches loud peaks but otherwise stays out of the way of your audio. Combined with the -12dB safety track recording, this makes the input virtually un-clippable, which is especially important when narrating for games and animation.
'And since we have so many musicians endorsing our products, we've also made it possible to use the MicPort Pro 2 with an electric guitar and bass to record studio-quality parts on the road, making MicPort Pro 2 a Swiss Army Knife of audio in the field.'
MicPort Pro 2 is available as two models – the basic model retails at US$249, while the limiter model adds a musical soft-knee analogue limiter at US$279. Both models are shipping now.