With 30 years of mic preamplifier history to call on, Focusrite has announced the third generation of its Scarlett mic preamp range, bringing upgraded audio performance and 'taking everything a step further'.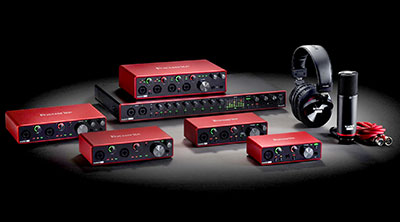 The new Scarlett 192kHz, 24-bit converters give recordings clarity, while their Air mode breathes life into vocals, adding unique high-end detail. The also include I/O configurations to suit almost any situation in the Solo, 2i2, 4i4 8i6, 18i8 and 18i20 models. The new 4i4 and 8i6 add more line I/O over their second-generation counterparts, the 2i4 and 6i6. New Solo and 2i2 Studio Packs are also available, with Scarlett HP60 MkIII headphone and CM25 MkIII condenser microphone included.
The upgraded mic preamps can reproduce the Air effect of Focusrite's original ISA mic preamp, giving vocals and acoustic music a brighter and more spacious sound. Focusrite's iconic gain halos light up to indicate input levels, making it easy to get distortion-free recordings.
The Solo, 2i2, 4i4 8i6, 18i8 and 18i20 also claim to be the easiest interfaces on the market to get up and running – Focusrite's Quick Start tool guides users through registration and setting up software and drivers. Their USB latency is sufficiently low that recording and monitoring is possible in real time with plug-ins in place.
Using the latest USB connectivity for greater versatility, the interfaces can be plugged into a laptop using the supplied USB-C to USB-A cable to facilitate recording whenever and wherever required.
More: www.focusrite.com