A major firmware update has been released for DirectOut's Montone.42 Madi-to-Ravenna/AES67 converter.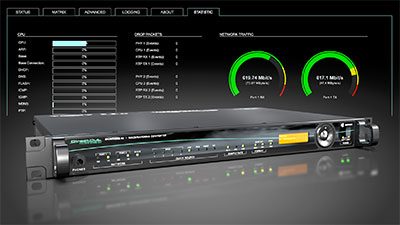 Transparent transport of AES3 audio data over IP is now possible with the Montone.42 through newly added ST 2110-31 support. The standard was ratified by SMPTE in 2018, and allows to transmit any format which can be encapsulated in AES3 (24-bit audio plus subcode) as a 2110-compliant network stream and supports audio as well as Non-PCM data as payload. Using a ST 2110-31 stream, the audio signal can now be transmitted over IP, while the metadata is preserved.
DirectOut uses the AES3 user bit to transmit control data for the Andiamo series embedded in Madi. As a result, Andiamo devices can now be controlled remotely through Audio-over-IP streams. Switchable transparency modes in the Montone.42 allow to safely transmit Non-PCM data, such as Dolby-E over ST2110-31 streams. The implementation of the standard has been tested and approved at a Workshop of the Video Services Forum (VSF) in Houston.
'From the beginning, DirectOut has made use of User Bits in AES3 to allow remote control over Madi,' explains DirectOut CTO/MD, Claudio Becker-Foss. 'With this standard, transparent transmission of the subcode is supported in many devices – ensuring that DirectOut products support third-party solutions that make use of AES3 in various ways too. We are very happy that now we can continue to offer this versatility in the IP world with ST 2110-31.'
More: www.directout.eu