Tieline has announced a new internal Dual Active SIM LTE module for the ViA remote codec supporting two active cellular connections to support the use of SIM cards from different Telcos simultaneously for diversity when using Tieline's SmartStream Plus dual redundant streaming technology. The two SIM cards can also be bonded to create additional bandwidth using a single robust Fuse-IP link.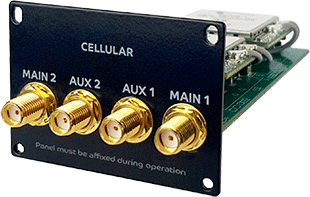 'The new ViA dual internal modem will deliver more choice to Tieline customers for wireless remote broadcasting,' says VP of APAC/EMEA Sales, Charlie Gawley. 'The ViA already supports connecting two air cards using USB, however many customers requested an internal module with dual modems to avoid using external dongles. This innovation also means there will be seven different IP interface options from which to choose when going live.'
The ViA offers the ability to connect over dual Ethernet ports, built-in Wi-Fi (no USB modem required), dual air cards, and now the new module with dual internal modems. Any two interfaces can also be bonded to deliver secure and robust connections from remote locations in challenging environments. The new Dual Active SIM module has four antenna connections to provide antenna diversity for both SIM card connections.
More: www.tieline.com