Flock Audio has launched its Patch System, a digitally-controlled, fully analogue patchbay routing system combining Patch App software and 64-point connection hardware.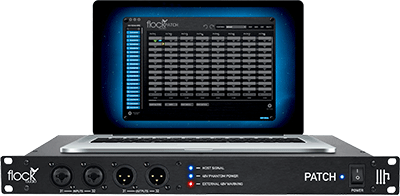 'I started working on a conceptual design known as Patch in early 2016 when I left a stable career and chose to pursue the path less travelled of designing and developing a better and more efficient process for professional audio recording engineers from the depths of my basement home recording studio,' says Flock Audio CEO/Director Darren Nakonechny.
'In need of a better solution other than the 1870s technology known as a traditional patchbay, the concept was born to create a fully-digitally-controlled but analogue circuit routing system that wouldn't color or alter the audio signals passing through it. After two years of strenuous work and constant focus, Flock Audio, the company I started, created the world's first and most advanced digitally-controlled analogue audio routing system with features never before possible in conventional analogue audio routing.'
The Patch hardware features four connectors – two inputs on Neutrik XLR/TRS combo jacks and two outputs on Neutrik XLR male jacks – on its front panel. These can take on the identity of inputs 31-32 and/or outputs 31-32 from the rear of the hardware using the Patch App software GUI. Front panel-redirected inputs 31-32 can also have 48V phantom power supplied via the Patch App. The status of these inputs is indicated using LEDs. Three further coloured LEDs complete the front panel, giving visual notification of Host Signal, External 48V warning and power. The rear panel hosts a 6-pin PSU connection for the 24V DC power supply.
The Patch System has 32 channels of 48V phantom power available to any of its input channels for condenser microphones. The system uses minimal CPU power to send and receive commands from the hardware, and works off USB 2.0 and onwards compatibility.
Each Patch System comes with a USB-A to USB-B cable. Input/output connectivity provided by 64-point connection via eight DB-25 connectors.
Internal patching is via the MacOS/Windows-compatible Patch App software, using drag-and-drop operation. Multiple Patch Systems can be connected together for expanded I/O.
More: www.flockaudio.com