Tascam has launched seven Dante Compact Processors in a series of half-rack audio converters featuring onboard digital matrix mixers with signal processing for applications including public facilities, broadcast applications, recording and postproduction studios, sound-reinforcement systems and corporate boardrooms.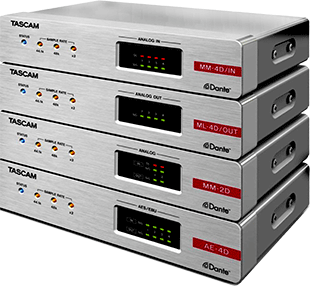 Dante-enabled input/output endpoints deliver up to 96kHz, 24-bit audio conversion. He Dante Compact Processors can be freely combined to create custom systems and are easily installed under desks or on walls with the included surface rackmount angles or rackmounted with the optional AK-RS1 rack shelf. All models offer the flexible routing of Audinate's Dante controller, and are compatible with Dante AES67 mode and Dante Domain Manager. They offer remote control via GPI, Dante, and either of two free Tascam control software applications, one for integrators and one for end-users.
Tascam Dante Compact Processors can be powered over Ethernet (PoE), via a Euroblock DC In/Out connector for power cascading, and using an optional AC adapter for a redundant power supply or when using the second Dante data port for daisy chaining. All models feature LAN/Dante status and sample rate indicators. The models with analogue audio input or output also have audio signal indicators, including input overload LEDs.
The MM-4D/In provides four mic/line input channels with Tascam mic preamps that offer remote gain control from Tascam's free control software or from external controllers. Each channel has individually switched, +48V phantom power. Built-in input processing includes a compressor, four-band parametric EQ, level control, polarity reverse, and mute. The MM-4D/In's 8-inpuy/4-output matrix mixer combines the four analogue inputs with four Dante inputs (up to 48kHz) and feeds four Dante outputs. The mixer offers level control and muting, as well as auto level ducking for making announcements over ambient music and an ambient noise compensator that detects input source level and automatically configures the level of the selected channel. The MM-4D/In is available with either XLR or Euroblock audio connectors.
The ML-4D/Out accepts four channels of up to 96kHz Dante input and provides four line-level outputs on either XLR or Euroblock connectors. The onboard 4x4 matrix mixer includes level control, ducking, ambient noise compensation, and muting. Each output has a ten-band EQ, delay, level control, limiter, polarity reverse and muting.
The MM-2D features two channels of mic/line input with Tascam preamps, including +48V phantom power, and two channels of line output, available on either XLR or Euroblock connectors. An onboard 6-input/4-output matrix mixer with the same mixer processing as in the MM-4D/In and ML-4D/Out enables combining the two channels of analogue input with four channels of Dante input and routing to two analogue and four Dante output channels. Input processing is the same as in the MM-4D/In, and output processing is the same as on the ML-4D/Out.
The AE-4D provides four channels of AES/EBU input with SRC and four channels of AES/EBU output on XLR connectors. It converts directly to and from four channels of Dante audio, without needing an internal mixer. The AE-4D offers level control and muting on both inputs and outputs.
All seven Dante Compact Processors can be remote controlled using either of two free Tascam software applications for macOS, Windows, iOS, and Android. Tascam MX Connect software provides system integrators/managers with in-depth control of input/output configuration, matrix mixing, output routing, and signal processing. End users can enjoy quick, easy control of a variety of settings using Tascam EZ Connect software. Manage mic/line input switching, mute, and fader levels, all from Tascam EZ Connect.
More: www.tascam.com