Allen & Heath has announced new portable and wall-mount I/O solutions for installation, and two new Dante option cards – all AES67 compatible and Dante Domain Manager ready. The DT168 provides 16 mic preamps and eight line outputs in a convenient stagebox form factor for portable applications. Thanks to its rubber bumpers and handle, the DT168 can be deployed on stage or used as a drop-in expander.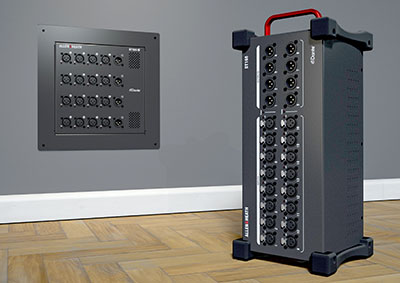 The DT164-W provides 16 mic preamps and four line outputs in a versatile wall-mount design for permanent installation. The reversible mounting frame allows for in-wall or on-wall mounting. The unit also fits in a standard 12x12-inch Nema box or equivalent, or mounted in a floor pocket for stage use. The IEC mains power inlet can be replaced with a gland module and screw terminals for fixed installation, and a DC 12V backup supply is also provided.
Both DT168 and DT164-W offer Allen & Heath preamps with 96kHz converters, plus Primary and Secondary ports for daisychain or redundancy through secure EtherCon connectors. Both new products are compatible with Allen & Heath's DM and CDM MixRack/MainFrames, and with SQ series mixers.
'DT168 and DT164-W respond to requests from consultants and integrators for Dante connectivity that breaks out of the conventional rackmount format,' says Allen & Heath Installation Product Manager, Martijn Verkerk. 'Whether it's I/O in the walls and floors or portable units that can be quickly deployed wherever needed, users can now benefit from Allen & Heath audio quality and Dante flexibility throughout the facility.'
Also new are two 'super' Dante cards for the Allen & Heath flagship dLive system, offering 64x64 and 128x128 channels respectively of 96kHz Dante audio (switchable to 48kHz). A first at this price point, these powerful options respond to user demand for a high channel count, high sample rate Dante solution in recording, virtual soundcheck and digital split applications.
More: www.allen-heath.com