iCon Pro Audio has announced the Platform U22 VST 3.0 audio interface, providing high sonic quality, a low noise floor, and ultra-fast processing specifically for its own Platform series of Midi/audio controllers.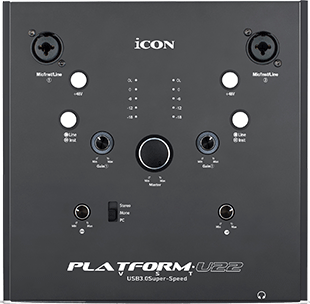 The Platform U22 VST USB 3.0 Super-Speed audio interface is a 96/192kHz, 24-bit 2-input/2-output device offering a low noise floor, and ultra-fast processing as a compact, rugged, and versatile addition for the Platform Midi/audio control concept –Platform M+ eight-channel DAW controller and accompanying eight-channel Platform X+ expander.
Users of the Platform U22 VST can easily expand the I/O capability of an existing Platform system or run it as a standalone audio interface in its own right, recording – with full duplex, simultaneous record/playback support – two signals at once through the two high-quality mic/inst/line preamps, each equipped with individual Gain controls, +48V phantom power switching, and LED indicators to assist with dialling in the sound.
Platform U22 VST features two analogue balanced inputs on quarter-inch TRS jacks; two analogue balanced outputs on quarter-inch TRS jacks; Midi I/O (1–16 channel); a direct monitoring (DM) switch for Stereo, Mono and PC with individual volume control; and headphone output with individual (HP) volume control sensibly spaced across and around a road-ready, rugged casing of metal construction housing high-quality analogue-to-digital and digital-to-analogue convertors. The DAC boasts THD+N of -112dB and dynamic range of 120dB, while the ADC delivers THD+N of -110dB and a dynamic range of 120dB.
The Platform U22 VST comes with ProDriver VST, iCon Pro Audio's, proprietary plug-in host and virtual signal routing software for MacOS (Intel- Mac) and Windows 7, 8 and 10 (32-bit/64-bit), so users can host plug-ins without launching a DAW.
iCon Pro Audio's ASIO2.0 audio interface is priced at US$239.99/€219.99.
More: https://iconproaudio.com