The new AV DI Plus from ARX Systems is a stereo Audio Visual Active Direct box for interfacing computer soundcards, smart phones, iPads and similar devices with professional sound systems.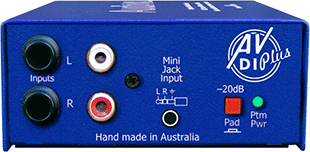 The AV DI Plus provides a straightforward solution to the increasingly familiar problem of having to deal with a number of different types of analogue audio connectors when connecting to consumer level devices. It features industry-standard dual 6.5mm, RCA and Amphenol stereo mini jack inputs and dual balanced Amphenol XLR outputs.
The latest addition to the Audibox range of interfaces from ARX Systems, the AV DI Plus converts unbalanced audio signals to balanced, low impedance signals suitable for use with professional equipment and long cable runs. Switchable ground isolation provides low-noise operation suitable for any application, preventing ground loops and other extraneous noise. For applications such as corporate A/V and computer interfacing, the AV DI Plus also features a Mono switch, allowing stereo signals to be easily summed, thereby requiring only one mixer channel for playback. Finished in a heavy-duty all-steel chassis and with a fibreglass PCB, the compact AV DI Plus is built to last. An optional mounting bracket is also available. The AV DI Plus features a -20dB input Pad & Mono output switch plus Phantom or 9-18V DC power options.
More: www.arx.com.au