DirectOut Technologies has implemented DO.Net daemon in its ExBox.MD Dante/Madi interface to remotely access and control the entire Andiamo Series. The combination of an ExBox.MD and any Andiamo also upgrades the converter series with a Dante I/O.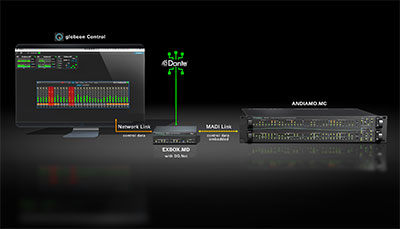 The new firmware for DirectOut's Dante/Madi converter adds another important feature to this compact but powerful device. DO.Net is a technology based on a multicast system that transmits the control protocol within the Madi signal going from the ExBox.MD to the connected Andiamo devices and allows to remotely access and control them over a local network. Once the function is activated and set, available Andiamo devices automatically appear in globcon and are fully manageable from the software along with all other devices connected to the same network. This feature is supported for all Andiamo devices independent from their hardware revision.
'The success of DirectOut in its first ten years of history is closely linked with the success of our Andiamo Series, which offers reliable conversion within the analogue and digital audio worlds,' says DirectOut CTO, Claudio Becker-Foss. 'By bundling the ExBox.MD with the Andiamo devices we give our clients a smart and cost-effective solution to add network audio and network control to both the current and the legacy Andiamos. The combination of DO.Net and globcon control offers a fully integrated and very intuitive management of this bundle.'
The latest globcon beta, released at the same time, also introduces source selection (Auto/Manual) and Midi triggering to EARS, the automatic input switching function of the ExBox.MD, upgrading and completing this unique feature of the device.
'The ExBox.MD is the world's first Dante/Madi interface to offer automatic redundancy switching and it has already been adopted in combination with the Andiamos by many different playback engineers,' adds Becker-Foss. 'Collecting their feedbacks and summing them with the experience gained through our ExBox.BLDS, we came to the decision of implementing source selection and external triggering also in the ExBox.MD in order to complete this powerful tool. The globcon team reacted instantly to our request and made it quickly become reality. We are sure that this addition will be positively welcomed by our customers.'
More: www.directout.eu