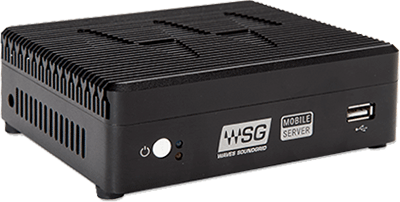 Waves Audio has introduced the SoundGrid Mobile server, with an Intel Core i5 processor and 4GB of RAM to power your plug-ins in small live shows as well as in the studio.
Replicating the full-sized, rackmount SoundGrid servers, the latency of the SoundGrid Mobile is extremely low at 0.8 ms at 44.1-96kHz, and represents an exceptional price/performance sweet spot for mobile DSP.
Paired with a SoundGrid audio interface, the SoundGrid Mobile server allows recording and monitoring through plug-ins in real time. With a non-SoundGrid interface, it takes the plug-in processing load off your computer during mixing and editing sessions.
The SoundGrid Mobile server fits in a backpack alongside a laptop, audio interface and headphones. The aluminium casing makes it a tough companion, for travelling, mixing small live shows and for the studio.
Key features:
Boost plug-in processing power live or in the studio.
Portable plug-in processing power.
Exceptional price/performance sweet spot for mobile DSP.
Utra-low latency: as low as 0.8ms at 44.1-96kHz.
Durable aluminium casing.
Use with any SoundGrid audio interface.
Offload plug-in processing from computer to server using existing audio interface.
CPU: Intel Skylake Core i5-6200u.
RAM 4GB.
Power: DC12V 3A.
More: www.waves.com