DirectOut Technologies has unveiled the first member of a powerful new broadcast product family. Prodidgy.MC is a modular audio converter and audio router supporting multiple formats, with a variety of I/O, and networked audio and control capability in a compact 2U-high package.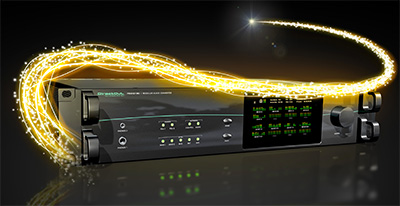 With the Andiamo series in mind, Prodigy.MC was designed from the ground up to provide a maximum of flexibility and versatility at a reasonable price point. The combination of unified remote control via globcon and a user-friendly touchscreen on the front panel ensures ultimate usability. Third-party remote control protocols can be added for increased system integration.
Prodigy.MC provides I/O based on eight channel modules. Line-level, microphone and AES3 (including SRC) interfaces can be combined up to a total of 64 inputs and outputs. In addition, Prodidgy.MC hardware supports Madi and a network audio option – while its two Madi slots can be equipped with BNC, SC optical and SFP modules, an optional board adds Dante, Ravenna (AES67) or SoundGrid connectivity to this very powerful device.
The design for Prodidgy.MC builds on experience gained in designing and distributing multichannel audio converters and routing systems: 'We are fortunate to be able to say that DirectOut has developed a lot of versatile products for professional clients' exciting and demanding projects in various application scenarios during the past ten years,' says CEO and Sales Director, Jan Ehrlich. 'It is always our aim to turn the feedback we receive from our clients into new solutions in order to meet their requirements as completely as possible. Recent years have seen the need for more flexibility, modularity and IP technology increase drastically.'
'The design of the Prodigy.MC hardware is the culmination of requests from our clients and a general industry requirement for greater channel counts and format flexibility in local converters and interface I/O, as well as support for networked audio standards such as Dante, Ravenna, ST2110-30 and SoundGrid,' says Product Manager Claudio Becker-Foss. 'It is our objective to offer solutions tailored to customers' needs, while maintaining the flexibility to accommodate future changes and developments in professional audio.'
'The changes in technology and the nature of audio production bring big challenges to our clients,' Ehrlich adds. 'At the same time, equipment space is limited, requirements are evolving, budgets are small and versatile control is a must. Powered by globcon, Prodidgy.MC takes all of these challenges into account. It is our answer to our clients' and market needs, while securing client's investment in our products for a long time to come. I believe that Prodidgy.MC's modular design will be greatly welcomed by smaller businesses, as well as by rental companies and broadcasters.'
More: www.directout.eu