PreSonus has released the EarMix 16M 16-channel personal monitor mixer, and NSB 16.8 and NSB 8.8 stageboxes, designed to work seamlessly with the PreSonus StudioLive Series III mixers.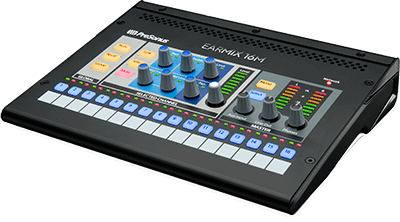 Part of PreSonus' AVB-networked product line, the EarMix 16M 16-channel AVB-networked personal monitor mixer is an expandable, networked monitoring solution for stage, installed sound systems and studio recording. Each EarMix 16M accepts 16 mono channels of input via AVB networking. Multiple units can be networked with a StudioLive Series III mixer.
EarMix 16M can drive low-impedance devices such as professional in-ear-monitors. Each unit can create a custom mix, with limiting and three-band EQ (sweepable midrange) to each channel, as well as to the main mix. A set of monitor mixes can be saved to internal memory, with up to 16 mix scenes stored locally.
The EarMix 16M can be powered with its included external power supply but also works with Power over Ethernet (PoE), which enables network cables to carry electrical power to compatible devices. A pair of AVB jacks enable you to chain multiple EarMix 16Ms while also connecting to a StudioLive Series III mixer. EarMix 16Ms can be chained from multiple AVB switches, such as the PreSonus SW5E. An AVB network routings to be quickly and easily set up from a networked StudioLive Series III console or using free PreSonus UC Surface control software for Mac, Windows, iPad and Android.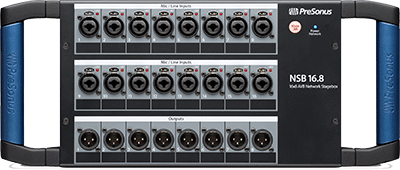 PreSonus' NSB 16.8 and 8.8 AVB-networked stageboxes deliver signals from stage to console over a Cat5e or Cat6 Ethernet cable. All inputs feature gain compensation for shared input scenarios, a feature typically only found on much more expensive systems. Remote control of the NSB series' inputs, preamps, phantom power, and gain compensation is possible from a networked Series III console or from free PreSonus UC Surface touch-control software. The 16x8 NSB 16.8 offers 16 locking combo mic/line inputs equipped with PreSonus' remote-controlled, class-A XMax preamps. The 8x8 NSB 8.8 offers eight of these mic/line inputs. Both models provide eight outputs with locking XLR jacks. A built-in two-port AVB switch lets you daisychain multiple units, or use the PreSonus SW5E AVB switch to support larger shows and installations.
The units are shipping now, with EarMix 16M prices at US$399.95; NSB 16.8 at US$799.95 and NSB 8.8 at US$599.95.
More: www.presonus.com