Merging has released a new version of DA8/DA8P module for its Horus and Hapi audio interfaces.
Having performed without the need for major changes for the past seven years, the original design of the eight-channel converter board has now seen the replacement of its D/A converter chip with the latest offering from ESS – which means the new production Run 11 is now incorporating the ES9028Pro instead of the former ES9008.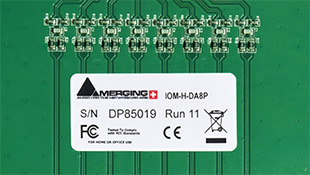 This change brings improved specs, including typical dynamic range of 125dB (>127dB A-weighted) and THD+N in excess of -116dB (this latest number being actually close to the measurement limit of Audio Precision equipment maxing at 118dB THD+N).
In addition to improvements of 1.5-2dBs over the first generation are advantageous, the design also incorporates new refinements by adding local Low Phase Noise Oscillator circuitry to further improve the absolute transparency and stereo image of an Analog signal, essentially void of both jitter and wander.
The new product codes for Standard and Premium versions are: IOM-H-DA8 Horus/Hapi eight-channel Line Output D/A module, up to 192kHz (at the same price as the former IOM-HORUS-DA8); and IOM-H-DA8P Horus/Hapi eightchannel Line Output D/A module, DSD/DXD Premium (at the same price as the former IOM-HORUS-DA8P).
More: http://merging.com