Tascam has enhanced the functionality for the DR series of portable recorders with the release of v2.0 firmware.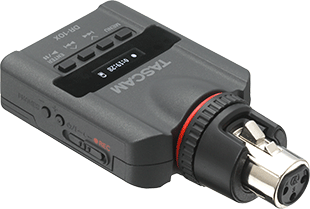 Designed for videography and newsgathering, the DR-10 series of miniature digital recorders includes the DR-10X (with integrated XLR connector), the DR-10SG (with integrated shotgun mic) and the DR-10L/LW (with lavalier mic).
In addition to system enhancements and performance improvements, the v2.0 firmware release adds three new recording and monitoring capabilities to each model. These include real-time level meters during recording, an additional level setting in dual record mode, and the inclusion of MP3 as a recording format.
Users can now view record levels in real time when the record function is engaged, as the meters are now active during audio capture. In addition, users fond of the dual recording feature – which allows for the automatic recording of a second 'safety track' at a lower gain setting than the main track – will now be able to select between a -12dB and -6dB delta.
Also on the list of new features is the ability to record directly to MP3, as well as multiple WAV formats. By recording to MP3, users will be able to record for days on end with a single MicroSD card, which can be essential on remote shoots or when gathering content at tradeshows and events.
Version 2.0 firmware for the DR-10X, DR-10SG, DR-10L and DR-10LW is available now as a free download.
More: www.tascam.com