RME has launched its M-32 Pro AVB Series with the M-32 AD Pro and M-32 DA Pro high-end audio converters.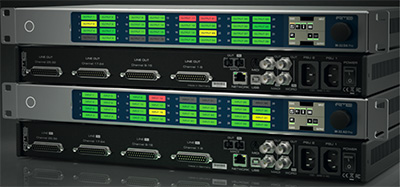 Based on high-resolution converter components and a fully balanced analogue circuit design, the M-Series 32-channel, 192kHz converters offer a signal-to-noise ratio of 120dB(A) with extremely low THD values — placing them in the reference class.
'The M-32 AD Pro and M-32 DA Pro are two new converters taking audio transmission to the next level,' said Derek Badala, Director of Sales, Americas for Synthax, distributor of RME. 'These units feature redundant power supplies, more compact housing and network functionality — all features that professionals in today's industry are looking for. And with an AVB interface included, these converters can be easily blended into complex network structures.'
In addition to the two fully equipped Madi I/Os including separate signal routing, the new M-Series converters boast an AVB interface based on the open network standard IEEE 802.1 and 1722.1, enabling transmission of the 32 analogue channels at maximum 192kHz sampling rate via a single Ethernet cable.
Combined with external AVB switches, the new converters can be quickly, easily and reliably integrated into more complex network structures thanks to the comprehensive time-synchronous signal processing of the AVB protocol.
The open AVDECC 1722.1 control protocol as part of AVB allows users to use external controllers from different manufacturers to control almost all device functions. A web interface and a JSON API are also available, both via the network connection and the integrated USB port.
In order to connect with a variety of analogue hardware, the individual channels of the M-32 AD Pro and M-32 DA Pro can be operated with different line levels — each with full resolution of the converters. Besides +19dBu and +13dBu, the new M-Series is one of the only solutions that also allows working with the SMPTE recommendation of +24dBU at 0dBFS.
Using supplied transparent papers, users can create individual channel labels and fix them behind a magnetic cover to provide a comprehensive overview of analogue channel assignments.