The Neutrik NA2-IO-DLine Dante I/O interface is an end-of-network device for integrating analogue signal devices within Dante-based networks.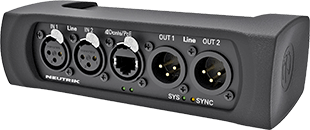 With two line level analogue inputs and two line level outputs, the unit can simultaneously convert two analogue line signals to a Dante stream and a Dante stream to two analogue line signals to feed analogue signals to a Dante network, while receiving a mix from another Dante source and feeding it to non-Dante enabled amplifiers, self-powered speaker systems, signal processors and mixing consoles.
The NA2-IO-DLine is optimised for use in extreme environments and applications, offering all of the usual Neutrik standards of robust construction and protection. The unit is equipped with lockable etherCon connections for audio and network I/O, and comes 'wrapped' in a highly protective rubber casing for stand-alone deployment. This can be removed, to allow it be used with optional mounting brackets or a rack panel; enabling it to be mounted below tables, in floor boxes, or in equipment racks for fixed installation applications.
The unit requires a Power over Ethernet switch (PoE – 802.3 af/at; Class 1) injector. It is also AES67 compliant, making it more extensively interoperable within other AES67 compliant AoIP network technologies, like Ravenna, Q-Lan and Livewire.
'In response to the many requests we have received from customers, we have developed a cable-based product that connects the analogue world to the Dante world,' says Neutrik Product Manager, Florian Frick. 'The ability to feed and transmit signals at the same time eliminates the need for investment in new devices.'
'The NA2-IO-DLine is a uniquely robust, highly specified, simple to use, hand-holdable synchronous Dante-analogue/analogue-Dante interface,' says Neutrik UK MD, Mark Perrins. 'Its field-ready form factor and construction contrasts with the plethora 'studio-use' I/O metal boxes, and fragile breakout connectors currently on the market.
'As a quick fix, on-stage or onsite, system and production engineers' tool kit essential, it is unrivalled. The NA2-IO-DLine's support for AES67 further extends its usefulness beyond the Dante ecosystem, enabling its use with other AoIP technologies, like Ravenna, in common use within broadcast and media production applications.'
More: www.neutrik.com