ProCo Sound has launched a number of Dante AoD I/O Modules, offering simple connection to a Dante network and providing high-quality, low-latency audio.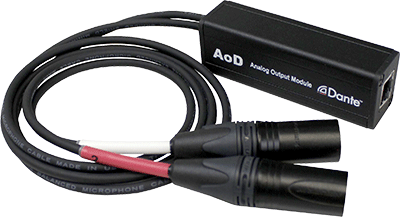 Built with uncomplicated designs and high quality A/D and D/A converters, ProCo's AoD I/O Modules guarantee easy delivery of studio-quality, low-latency audio delivered through any analogue source or Dante detwork. The modules support 44.1kHz, 48kHz and to sampling rates at up to 24 bits.
Modules include the AoDoM two-channel interface (AoD-FAN3-2XM) featuring one RJ45 Dante input and two Neutrik XLR analogue outputs. Its rugged aluminium extrusion channels offer a durable solution for providing line level analogue audio signals to output devices. It is designed with a 3ft analogue audio tail with black Neutrik XLR connectors. The AoDiMX4 four-channel interface is equipped with one Neutrik EtherCon Dante output and four Neutrik XLR analogue inputs, while the AoDoMX4 four-channel interface has one Neutrik EtherCon Dante input and four Neutrik XLR analogue outputs.
The interfaces can be configured with Audinate's free Dante Controller software. Users can automatically discover and configure device parameters such as device names, channel labels, signal routing, sample rates and latency. Power is supplied through a standard Ethernet cable via a Power over Ethernet (PoE) capable network switch, or from a separate PoE injector circuit. Locking Neutrik EtherCon connectors ensure durability, performance and resilient cable strain relief.
ProCo is also offering two durable enclosure options for its Dante Interface hardware – Drop Snake Boxes are portable, handheld units for audio transport, whileDante Wall Plates can beinstalled into any established pro A/V environment. Both chassis options offer identical functionality with differing rugged aluminium extrusion enclosures. Three configurations of two to four Neutrik analogue XLRF inputs and/or XLRM outputs are available for each enclosure, along with one Neutrik EtherCon Dante input. Each module is designed with LED indicators, which can be configured to display the status of the user's Dante ecosystem.
'We recognise that integrators need solutions for a variety of installation environments, which is why we emphasised a truly plug-and-play user experience with our latest AoD I/O Modules,' says VP of Marketing, Darius Seabaugh,. 'Whether using Drop Snake Boxes for mobile audio delivery or Dante Wall Plates for fixed applications, users can seamlessly integrate our modules into their workflow and guarantee exceptional audio quality to and from their Dante network for any project.'
More: www.procosound.com