ProCo Sound has released the AoD Ouput Module, promising studio-quality, low-latency audio transport over any Dante network.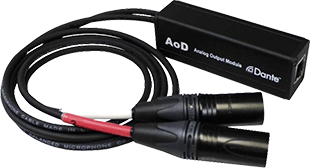 The AoD Output Module features a Dante audio input and two channels of analogue output from a rugged aluminium extrusion housing. Its uncomplicated design allows AoD Output Modules to connect with any Dante Network. The module comes equipped with hand soldered, 3ft analogue audio tails and two analogue audio outputs, including one RJ45 Dante input and using two Neutrik NC3MXX series XLR analogue outputs. These XLR connectors guarantee the delivery of studio-quality, low-latency audio.
The AoD Output Modules use high-quality DA converters, support a 44.1kHz, 48kHz and 96kHz sample rates at up to 24 bits. The modules use Power over Ethernet (PoE), with power sourced through standard Ethernet cable via a PoE capable network switch. The free Dante Controller software provides accurate configuration of device names, channel labels, signal routing, sample rates and latency.
'The AoD is an asset for anyone using Dante networks, as its design is intuitive and truly plug-and-play,' says RHC Audio VP of Marketing, Darius Seabaugh. 'We're looking forward to presenting broadcasters with a durable, dependable solution for delivering high-quality audio.'
More: www.procosound.com