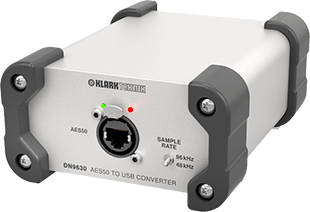 The Klark Teknik DN9630 AES50-to-USB 2.0 converter supports up to 48 bidirectional audio channels, enabling the connection of computers to AES50 networks to provide simultaneous multichannel computer audio recording and playback.
Optimised for use with Midas digital consoles and other AES50 equipped products, the single USB 2.0 interface connects directly to a Windows PC or Mac and features a very high channel count of up to 48 bidirectional channels at 48kHz and 24 bidirectional channels at 96kHz sample rates. SuperMAC (AES50 Compliant) digital audio networking technology simultaneously provides the high channel counts; ultra low and deterministic latencies; sample synchronous and phase-aligned networked clock distribution; error detection and correction along with network redundancy.
The DN9630 provides a separate RJ-45 port which serves as an external interface for the bidirectional AES50 auxiliary data channel. This data link allows remote control and metering of connected AES50 devices via standard Ethernet communication. A dedicated slide switch is provided for either 48kHz or 96kHz sample rates, allowing the DN9630 to work with either AES50 network's incoming source clock for synchronisation.
Dedicated audio software drivers are available for Windows PC operation (free of charge download), while Mac OS-X provides native Core Audio driver support for the DN9630.
More: www.klarkteknik.com