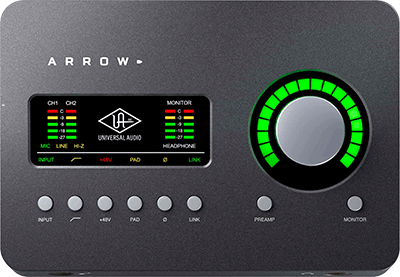 Universal Audio's Arrow has laid claim to being the world's first Thunderbolt 3 bus-powered audio interface for Mac and Windows.
A compact 2x4 interface starts with conversion derived from UA's flagship Apollo interface range, Arrow features Unison technology – a hardware-software integration of Arrow's mic preamps and its onboard UAD-2 Solo Core processor – placing a Unison preamp plug-in on a mic input in Arrow's Console software physically reconfigures Arrow's impedance to give the classic tube and transformer sounds of the world's most recorded mic preamps and guitar amps.
Unison technology emulates the sound of preamps including the bundled 610-B Tube Preamp, plus authentic mic preamp emulations from Neve and API, as well as guitar amp emulations from Fender and Marshall – complete with their signature impedance, gain stage 'sweet spots', and component-level circuit behaviours.
Apollo supports recording with audio tools including the 610 Tube Preamp, LA-2A and 1176 compressors, and a genuine Marshall Plexi amp plug-in at near-zero latency, regardless of audio software buffer setting.
Arrow includes suite of analogue emulation plug-ins including the world's only authentic Teletronix LA-2A, 1176LN, Pultec EQs, and the Unison-enabled UA 610-B Tube Preamp.
For guitarists and bassists, Arrow includes Unison technology on its front panel instrument input – giving you access to dead-on emulations of amps like the Fender '55 Tweed Deluxe, Ampeg B-15N bass amplifier, Eden WT800 bass amplifier, and the included Marshall Plexi Classic – all available at near-zero latency.
More: www.uaudio.com