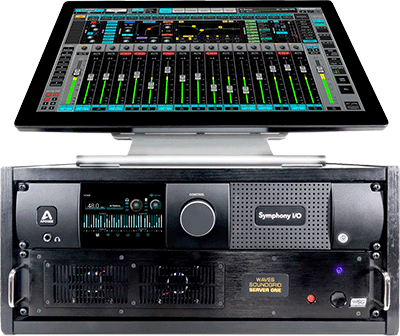 Apogee's Symphony I/O MkII multichannel audio interface now supports Waves SoundGrid connectivity.
The Symphony I/O Mk II features Apogee's newest flagship AD/DA conversion, modular I/O (available in multiple I/O configurations: 2x6, 8x8, 16x16), touchscreen display and optional microphone preamps for audio recording, mixing and mastering.
SoundGrid is a real-time processing and networking platform that allows your DAW to offload its plug-in processing. SoundGrid integrates with all DAWs, providing endless possibilities for studio, live and post-production with Ethernet connection.
The Symphony I/O MkII can also be used with Waves' eMotion LV1 software mixer for front-of-house, monitor and broadcast. Waves' eMotion LV1 comes in three configurations: 64, 32 or 16 stereo/mono input channels. It uses the SoundGrid infrastructure for audio networking and can be controlled by hardware control surfaces and multitouch devices, ranging from multiple 5-point touchscreens to a single laptop or tablet.
'Symphony I/O Mk II is a flagship product that reflects more than 30 years of our expertise in making superior digital audio recording interfaces and it's a platform we are still building on,' says Apogee Electronics Director of Marketing, Sean McArthur. 'Adding SoundGrid connectivity to Symphony offers customers the best of both worlds in professional audio quality and ultra-low latency plug-in processing over a network. It's an ideal solution for studio recording and live sound production.
'We are delighted to collaborate with Apogee and offer Waves SoundGrid technology and the use of Waves plug-ins to the Symphony I/O MkII, augmenting its capabilities and offering users, whether in studio or live, a substantial increase in its ability to network easily, a valuable high channel count per connection and extremely low latency,' adds Waves EVP of Sales & Marketing, Mick Olesh.