The Sonifex Phone In 6 radio station talkshow system will be introduced at the forthcoming CabSat show in Dubai.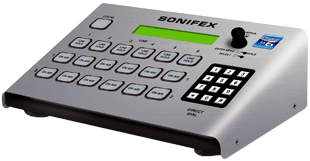 'We're really excited about the Phone In 6,' says Sonifex MD, Marcus Brooke. 'It allows talk-show hosts to take calls from up to six callers and route them to air through two separate digital telephone hybrids, or to conference two callers together. It uses standard Ethernet to communicate, it's robust and stylish.'
The unit can connect to four, or six phone lines, which can be standard analogue PSTN or digital ISDN lines. The remote call control unit can place calls on hold, which can receive music on hold, or can direct the callers to one of two internal digital telephone hybrids. The hybrids use the same technology as the DHY-03 hybrid to offer the highest performance and outstanding call clarity. The digital hybrid interface is settable by software to handle a variety of PSTN and PABX systems with varying impedances, call connection and disconnection tones.