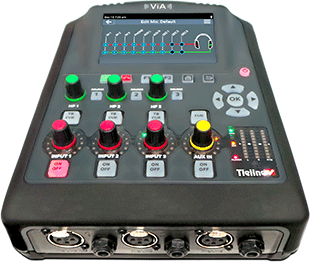 Audio codec manufacturer Tieline Technology has released firmware v2.16.106, bringing a range of new features to its ViA codec.
'Tieline continues to develop significant new features in the ViA codec, which deliver greater flexibility to engineers for remote broadcasts,' says APAC & EMEA VP Sales, Charlie Gawley. 'This release adds a suite of powerful new features focused on routing and connection flexibility, security and input processing.'
Firmware includes:
· A comprehensive configurable Matrix Editor with simple touchscreen routing controls for all inputs and outputs. This feature supports saving and recalling matrix profiles for remotes with different routing requirements.
·Touchscreen XLR and digital output routing controls to customise outgoing feeds. These outputs are often used to send audio to a PA system or external recording device.
· Addition of graphic equaliser and compressor controls on each input.
· Fully configure and manage connections using the Program Manager in the HTML5
· Toolbox Web-GUI.
· Ability to automatically load, connect and disconnect programs using the Program Scheduler.
· Enhanced network security with support for SSL certificates, and SIP whitelist and blacklist configuration.
· Ability to upgrade firmware and backup/restore configurations via SD card.
· Support for codec caller IDs, deterministic SIP routing, up to six SIP user accounts.
The ViA codec offers up to six IP interface connection options, including dual LAN ports, dual USB ports for air cards, built-in dual band Wi-Fi with an integrated web-browser, as well as an internal LTE module. Optional ISDN and POTS modules deliver connectivity over these networks. The codec can connect in mono, stereo, dual mono, or mono/stereo, with a separate IFB circuit.
More: www.tieline.com