Yamaha Commercial Audio has extended its Commercial Installation Solutions (CIS) range, with new paging stations, flexible control options and Power-over-Ethernet (PoE) L2 switches.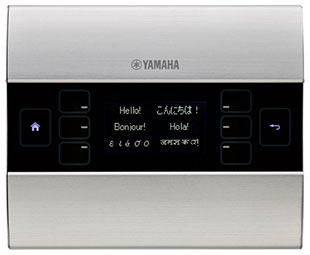 Yamaha's MRX7-D signal processor and XMV power amplifiers provide audio networking solutions for large-scale applications, such as retail centres and factories. Complementing them, the new CIS items bring flexible paging can be easily installed and comprehensively monitored
The PGM1 is a paging station that can be used to provide multiple remote paging locations on an MRX7-D/MTX5-D Dante network. Up to four PGM1 units can be connected per system, with eight buttons on the unit able to be assigned to any functions, with output destinations and input sources programmed via Yamaha MTX-MRX Editor software.
If more control buttons are needed, up to two PGX1 paging station extension units can be added to each PGM1, providing a total of up to 24 function buttons for each station. The PGM1 connects via standard Ethernet cables, for easy installation and flexible distribution in large commercial spaces, and is powered by PoE.
The MCP1 is an advanced, PoE-powered, multi-purpose remote panel for controlling a system based around the Yamaha MTX3 matrix processor or MTX5-D/MRX7-D signal processors. Featuring customisable touch controls, it allows exceptional remote control flexibility, with up to 36 parameters able to be assigned to the six control (plus home) buttons.
The MCP1 features an elegant brushed aluminium finish and dot matrix display, which allows dynamic labelling, with universal character support using a bitmap display for languages such as Japanese, Chinese and Arabic. With four user levels for access management and enhanced security, up to 16 MCP1s can be added to a system.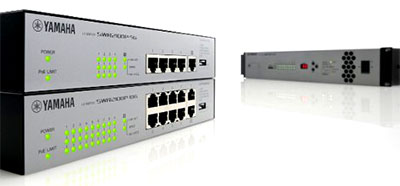 Building on Yamaha's ProVisionaire Touch iPad control app – which has been recently updated to include control for the TF-Rack rackmount mixer – ProVisionaire Control is a new Windows application that lets users easily design original, intuitive custom control panels for wireless or wired remote control of a wide range of Yamaha devices, including Yamaha MTX/MRX systems and CL/QL series mixing consoles.
Complementing it is ProVisionaire Control Kiosk, which features a simplified interface to allow a Windows PC or tablet to function as a dedicated, non-editable controller.
Yamaha has also announced the SWR2100P-5G and SWR2100P-10G L2 switches. With four and nine Ethernet output ports respectively, they provide PoE, power status monitoring and on/off switching. Also allowing comprehensive network monitoring from Yamaha's LAN Monitor software, the SWR2100P-5G and SWR2100P-10G complete a full CIS range 'one-stop' solution for high-quality paging systems.
More: www.yamahaproaudio.com