Yamaha has launched the latest additions to the MT Series of professional studio monitor headphones – the HPH-MT8 and HPH-MT5 (available in black and white versions).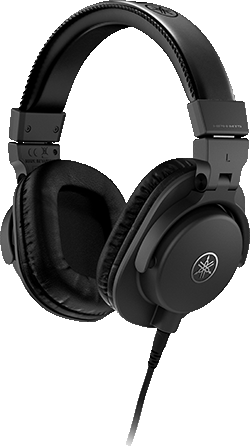 Along with the HPH-MT7 (launched in 2015), the new models complete Yamaha's new line-up of live audio and studio headphones. MT Series headphones are designed to deliver flat, high-resolution sound with precise stereo imaging and faithful source signal reproduction, while providing a high level of isolation and comfort to ward off fatigue during extended monitoring sessions.
The HPH-MT8 and HPH-MT5 feature custom drivers, respectively equipped with 45mm and 40mm CCAW voice coils, along with powerful neodymium magnets. Made from aluminium wire coated in highly conductive copper, the lightweight-yet-powerful drivers deliver a broad frequency response of 15Hz-28kHz in the MT8 and 20Hz-20kHz in the MT5.
Ensuring that the new models have the necessary durability for the rigours of road travel, the rugged design features a comfortably-fitting closed-back, circumaural configuration with solid ABS housing and a sweat-resistant headband. The large ear pads feature smooth synthetic leather and low-resistance cushions which absorb excess vibrations and reduce sound leakage, providing outstanding isolation and stress-free wearability over extended periods. A three-dimensional arm pivot construction and adjustable slider length ensures the angle of the ear pads fit the wearer's head perfectly, helping to alleviate fatigue. In addition, the MT8 features die-cast aluminium support arms and steerable earcups for single-ear monitoring.
The HPH-MT8 and HPH-MT5 both include a detachable straight 3m cable, equipped with corrosion-resistant gold-plated stereo mini-plug and 6.3mm stereo adaptor, allowing them to be used with both professional audio equipment and portable audio players. The MT8 is also supplied with a detachable 1.2m coiled cable.
'Ever since the development of the industry standard NS-10M studio monitors, at Yamaha we have maintained a uniform approach in all of our recording and sound reinforcement products. This seeks to achieve the purest sound reproduction possible, giving our users an ideal platform to work from when creating their own signature sound,' says Yamaha Commercial Audio Business Unit Director, Yoshiyuki Tsugawa. 'In response to the growing trend of headphone monitoring in professional studio and live sound reinforcement environments, the HPH-MT8 and HPH-MT5 models were designed around this core concept of sonic purity. The aim is to provide everyone from sound professionals to casual listeners with headphones that offer superior fidelity, outstanding sound quality, and very high levels of comfort, durability and versatility.'
The HPH-MT8 and HPH-MT5 will be available during 2016.
More: www.yamahaproaudio.com