Focusrite's VRM Box is a headphone monitoring system featuring Virtual Reference Monitoring (VRM) technology.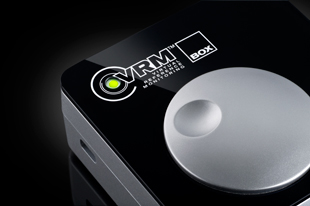 VRM Box functions as a high-quality 24-bit/48kHz USB audio playback interface with a digital (SPDIF) input, which supports sample rates up to 192kHz. This allows it to be run in conjunction with any interface with an SPDIF output. It also operates without the need for a power supply or batteries, as it draws power from the computer's USB port.
Accompanying software provide a choice of mixing environment and the 'virtual speakers' being used to monitor. Built into VRM technology are models of a variety of industry-standard studio monitors, including Genelec 1031A, KRK VXT8, Auratone 5C and Yamaha NS10M. There are also models of speakers commonly found in domestic environments. VRM processing can be bypassed – an LED on the hardware illuminates when it's active.
Boasting a dynamic range of 108dB, the headphone amplifier offers lower distortion performance than other low-cost audio interfaces, and is superior to built-in laptop headphone outputs. A volume dial gives accurate control over the output level.
More: www.focusrite.com