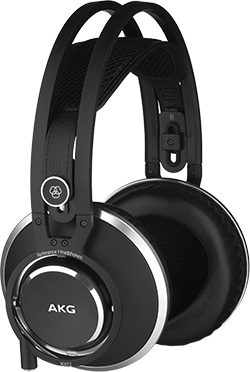 AKG has released a new flagship in its closed-back K872 reference headphones for critical recording, mixing, mastering and live sound engineering applications.
The design features custom components, including a 53mm transducer – the largest AKG has yet built. This was developed from the company's K812 transducer, and ensures highest in-class headroom and dynamic range. The design also uses a high-sensitivity copper-covered aluminium voice coil that extends sound beyond the limits of the human auditory system, from 5Hz to 54kHz, while delivering the lowest distortion level in class.
With newly designed closed-back ear cups, K872 headphones provide optimal isolation from external sound during critical monitoring applications. To provide personalised fit and comfort, the K872 features 3D-shaped slow-retention ear pads and a new quick-lock mechanism that maintains the right size for the wearer's head shape. K872 headphones also feature all-metal cardan-type hinges to ensure maximum durability and a tight ear pad seal.
The K872 is intended for music production professionals seeking an accurate, transportable, highly detailed reference for critical monitoring in a range of recording, mixing and production applications. Live sound engineers are served by the high degree of isolation, detail and comfort that the K872 provides. Studio mixing and mastering engineers will benefit from the reference-quality audio K872 delivers in both studio and mobile production workflows. The headphones include a case that functions as both a headphone stand and a low-profile carrying bag that conveniently fits in a suitcase.
AKG Professional is distributed in the UK and ROI by Sound Technology Ltd. The AKG K872 closed-back reference headphones are available now priced at £1,329 RRP inc VAT.