Ultimate Ears Pro (UE Pro) has announced its latest custom in-ear monitor, the UE Pro Reference Remastered – marking the company's second collaboration with Capitol Studios.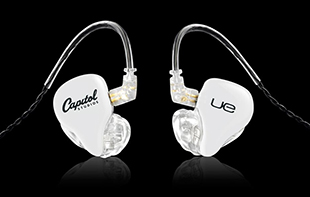 Following the original UE Pro Reference Monitor, Ultimate Ears Pro and Capitol Studios engineers have developed the new model using proprietary True Tone Drivers, which extend the frequency range and deliver a flat response to 18kHz, for use the studio, at home or on the road. 'With the emergence of hi-res audio, we are pleased to bring a product to sound engineers and audiophiles that takes full advantage of this new recording format,' says VP and General Manager of Ultimate Ears Pro, Philippe Depallens, Philippe Depallens.
'Our goal at Capitol Studios is to capture the artists' performances with absolute faithfulness to their creative intent, and that means capturing their sound to the highest fidelity possible,' adds Universal Music Group Head of Global Strategic Operations, Barak Moffitt, who oversees Capitol Studios. 'Until recently, it was a challenge to deliver music to the fan in a way that's completely faithful to the original studio recordings, but hi-res audio has changed that. New technologies are emerging that can help bring studio-quality sound faithfully to the fan.'
The UE Pro Reference Remastered provides 26dB attenuation of environment noise, and can be plugged into any audio interface with the 3.5mm headphone jack or included quarter-inch adaptor.
The UE Pro Reference Remastered is expected to be available in Q4 2015, at a suggested retail price of US$999.

More: http://pro.ultimateears.com