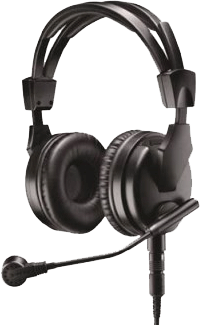 Shure has released the BRH50M Premium Dual-Sided Broadcast Headset for on-camera use for broadcast and media production.
The BRH50M features a cardioid polar pattern and frequency response optimised for natural and intelligible voice reproduction. The BRH50M also features a durable and rigid boom that pivots 270° for left/right-side wear.
The closed-back supra-aural design offers media production professionals a low-profile look and feel, while a fully-adjustable headband ensures a comfortable, ergonomic fit. Shure includes a variety of accessories with the BRH50M, including user-replaceable ear pads, a replacement windscreen, and a four-pin female cable. Other detachable cable options are available for connecting to a variety of devices.
'Designing an on-camera product is a bit of a balancing act,' says Matt Engstrom, Category Director for Wired Products at Shure. 'Although on-camera aesthetic appeal is certainly a critical factor, it was important to develop a product that looked great on-camera without sacrificing sound quality, comfort, or durability. After extensive testing with the NFL and NBA, we're confident the BRH50M delivers on all four of those factors, without requiring users to forfeit any aspect of product performance.'
The Shure BRH50M will be available in Q3 2015.
More: www.shure.com