Audio-Technica has unveiled its BP893 MicroEarset Omnidirectional Condenser Headworn Microphone at AES.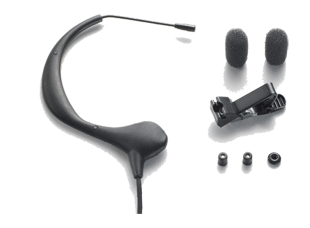 With its ergonomically molded earpiece and unobtrusive 1-inch boom, the BP893 'offers inconspicuous placement along with clear, consistent voice pickup'. An extended frequency response provides natural sound reproduction, and its lightweight low-profile design and ease of use make the microphone well suited to use in broadcast studios, theatres and houses of worship.
The BP893 may be positioned over either ear. Its omnidirectional miniature condenser capsule offers pickup similar to that of a high-quality lavalier microphone. The mic can also be used as a violin pickup –being worn over the ear with no need for clamps on the violin.
The microphone includes a 55-inch (1.4m) permanently attached miniature cable. Its free end connects to the provided AT8539 power module via a locking four-pin connector. The connector is also compatible with all A-T UniPak body-pack transmitters. The output of the power module is a three-pin XLRM-type connector.
The microphone requires 11V to 52V phantom power for operation. A recessed switch in the power module permits the choice of flat response or low-frequency roll-off (via the integral 80Hz high-pass UniSteep filter). It comes equipped with a power module, a cable clip, two windscreens, two element covers, a moisture guard, a belt clip and a protective carrying case. It is available in both black and theatre beige.
A variety of wireless models is available, including the BP893cW, which includes a 55-inch (1.4m) permanently attached miniature cable terminated with a locking four-pin connector for use with Audio-Technica UniPak body-pack transmitters. Models are also available in a variety of terminations for use with many other manufacturers' wireless systems. No power module or belt clip is included (or required) with the wireless models. The wireless models' dimensions, polar pattern and included accessories are otherwise identical to those of the BP893.
The BP893 and BP893-TH will be available in December 2010.
More: www.audio-technica.com