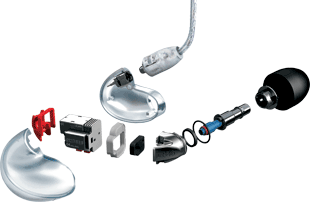 Shure's SE846 Sound Isolating Earphones are designed for both professionals and audiophiles.
The patent-pending design of the SE846 uses Quad High-Definition MicroDrivers with a three-way system configuration for dedicated low, mid and high frequency distribution. This includes a low-pass filter with true subwoofer that gives ~3dB low-end roll-off at 90Hz (~10dB at 250Hz). The natural roll-off of the subwoofer offers the tweeter and midrange drivers acoustic space to be heard clearly and accurately.
'Audio quality and durability are signatures of Shure's products, and these innovative earphones are no exception,' says Matt Engstrom, Category Director for Monitoring Products at Shure. 'The SE846's unprecedented low-pass filter is a combination of simplicity and effectiveness that ensures an unequalled, perfectly tailored listening experience. The SE846 achieves subwoofer sound quality with clarity and detail in less than half of a square inch.'
Lightweight with a low profile shape, the SE846 offers three changeable nozzles to give frequency response options – available in 'balanced', 'warm' and 'bright' options.
Key features:
• Four custom-engineered, balanced armature drivers tailored to blend precisely with each other.
• Three-way system configuration for dedicated low, mid and high frequency distribution.
• Ten precision-welded, stainless steel plates form four inches of high acoustic mass pathway, naturally enabling low frequency roll-off to begin at about 75Hz without distortion or artifacts.
A detachable cable for easy replacement and an accessories package that includes three pairs of disposable black foam sleeves, three pairs of soft flex sleeves and a carrying case are also included.
SE846 Sound Isolating Earphones will be available from September 2013.
More: www.shure.com