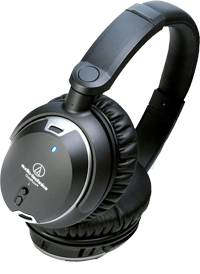 Audio-Technica's ATH-ANC9 headphones are the first of the company's over-ear QuietPoint active noise-cancelling headphones to offer Tri-Level Cancellation and compatibility with iPhones and smartphones.
Tri-Level Cancellation offers three mode settings for active noise cancellation to suit various noise environments. Mode 1 is for use on aircraft, trains and buses, applying maximum noise cancellation to low frequencies. Mode 2 is designed for use in noisy offices or crowded places and targets mid-range frequencies, while Mode 3 is suited for use in already-quiet environments like libraries.
Expanding the flexibility of the new headphones, the ATH-ANC9's cable is equipped with an inline microphone and smartphone controller for answering calls and controlling music. The microphone has an omnidirectional pickup pattern and is designed for crisp intelligibility without the need to speak directly into the mic.
In addition to its noise-cancelling and smartphone features, the model uses 40mm drivers and memory foam padding in earcups and headband for comfort during long listening sessions.
The ATH-ANC9 is supplied with hard case, battery, adaptors and two cables (one with inline control/microphone). The UK/Europe recommended retail prices are £279 (inc VAT) and €279 (ex VAT).