Sennheiser has launched the HD 400 Pro studio reference headphones for mixing, editing and mastering.
The HD 400 Pro design features a wide frequency response of 6Hz-38kHz from Sennheiser-developed 120Ω transducers that include a diaphragm made from a polymer blend, together with powerful driver magnets. Distortion is below 0.05% (measured at 1kHz, 90dB SPL). They feature a comfortable and lightweight open-back design fitted with soft velour ear pads. The unit includes both coiled and straight detachable cables, allowing the headphones to adapt to different use preferences.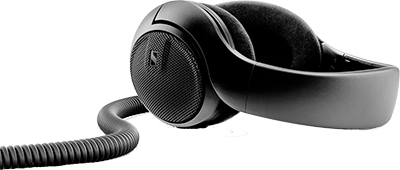 The headphone transducers of the HD 400 Pro sit at a slight angle, recreating the optimum triangular listening position used when listening to monitor loudspeakers in a recording studio.
In addition, the open-back design of the HD 400 Pro ensures a natural propagation of sound, unimpeded by the acoustic structures required in closed-back designs. Both aspects create a wide and spacious soundstage, neutral and transparent, which enables audio producers to work confidently knowing that their final mix transfers accurately to listeners.
The HD 400 Pro can be used with Dear Reality's headphone monitoring plug-ins, which create a virtual mix room with carefully designed acoustics using advanced spatial audio technology. The headphones have already been integrated into the Spatial Headphone Compensation feature in dearVR Mix; dearVR Monitor integration will be released by the end of 2021.
The HD 400 Pro is available now, and retails at €249 (MSRP). The headphones come with a 3m coiled cable and a 1.8m straight cable, both fitted with a 3.5mm jack plug for portable sources. A 6.3mm (quarter-inch) adapter is included, ensuring that they connect to a mixing desk or audio interface.
Key specifications:
Acoustic principle: dynamic, open.
Ear coupling: circumaural.
Frequency response: 6Hz-38kHz.
THD: <0.05% (at 1 kHz, 90 dB SPL)
Impedance: 120 Ω.
Sound pressure level: 110dB (1kHz, 1Vrms).
Connector: 3.5mm jack with 6.3mm adapter.
Weight: 240g (w/o cable).
'We are happy to introduce the first open studio headphones in Sennheiser's Pro line,' says Gunnar Dirks, Product Manager for Professional Audio. 'When editing and mixing, you need detail and honesty, and this is what the HD 400 Pro will give you. Thanks to their linear, high-resolution reproduction, these headphones are a reliable reference to create outstanding audio mixes.'
More: www.sennheiser.com