KRK has added the KNS 6402 and KNS 8402 models to its studio headphone line-up.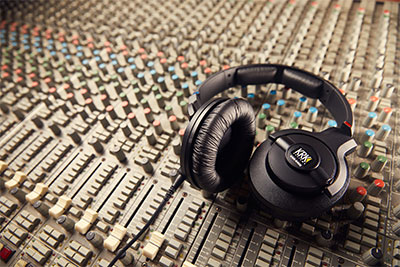 Building on the KNS 6400 and 8400, these updated models feature a closed-back circumaural (over-ear) design and self-aligning headband yoke for use on long studio sessions, without fatigue. Constructed using impact-resistant plastic material, KNS headphones are lightweight and durable, and with field-replaceable parts, including the pads and cable.
The KNS 6402 model features acoustic cellular foam pads and provides up to 26dBA of isolation with a 122dB maximum SPL rating, and a frequency response of 10Hz-22kHz. The KNS 8402 features memory foam pads with premium leatherette covers, offering comfort. The KNS 8402 headphones provide up to 30dBA of isolation and a higher SPL at 124dB maximum, and a frequency response of 5Hz-23kHz. They also feature a cable with in-line volume control.
Intended for applications both in and out of the studio, KRK says 'KNS headphones feature a wide frequency response and dynamic range, excellent stereo imaging, and consistent voicing. With clear and detailed sound, KNS headphones have extremely low distortion, and the isolating foam pads significantly reduce any bleed into microphones when recording'.
More: www.krkmusic.com