Audix has released its A10 and A10X Earphones, promising 'studio-quality performance for live sound monitoring and critical listening with exceptional imaging and isolation'.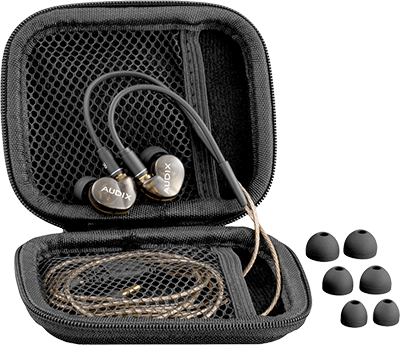 The A10 features a dynamic, low-mass moving coil assembly and titanium alloy diaphragm with a frequency response of ten octaves and accurate phase coherence due to its point-source design. At the heart of the design is a dynamic low-mass moving-coil assembly and composite beryllium diaphragm.
Both models feature lightweight and durable injection-moulded shells that are internally textured and ported for acoustic control and accuracy throughout the frequency range. The included small, medium and large pairs of silicone ear tips attach securely for comfort and sound isolation.
Gold-plated MMCX connectors allow for 360° of rotation for ease of placement. Silver-plated, oxygen-free copper cable with a reinforced wire wrap near the connector ensures that the earphones will stay securely in place.
'Great sound starts with a great driver and the proprietary, no-compromise drivers of the A10 and A10X earphones leverage our decades of dynamic transducer experience,' says Audix VP of Sales & Marketing, Steve Johnson. 'Whether you are on stage or on a plane, the new Audix earphones deliver high-fidelity listening for the most discerning ears.'
More: https://audixusa.com