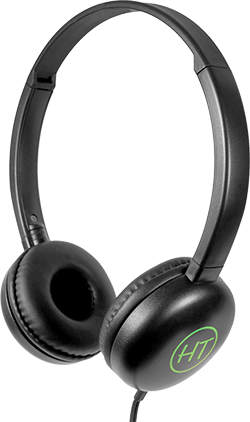 Halter Technical has introduces the second generation Scene Monitor headphone for monitoring dialogue on production sets.
The original Scene Monitor headphone (HTSM1) found favour on blockbuster movies, network television, indie videos and productions in between. The new Scene Monitor (HTSM2) retains a profile that is comfortable enough for producers, directors, script supervisors, loggers and editors to wear throughout a workday without fatigue, and single-sided cable. It also remains compatible with all radios and listening devices, with a 3.5mm stereo headphone jack. The speakers swivel flat for easy storage in a pouch or drawer.
The HTSM2 reflects customer feedback received by the Los Angeles-based manufacturer, with headband now reinforced throughout to provide durability and a dual-shielded cable to prevent breakage. Upgraded earpads provide 'a luxury feel'.
Scene Monitor is pitched to be affordable on a per-show or pre-project basis. Customers may purchase a single Scene Monitor (HTSM2) or in a pack of ten (HTSM2-Pack). These options offer a convenient and cost effective way to outfit an individual, or a show or facility with the perfect work headphone solution. The HTSM2 individual Scene Monitor and HTSM2-PACK Scene Monitor 10-Pack are now available to order from all of Halter retail partners.
More: www.haltertechnical.com