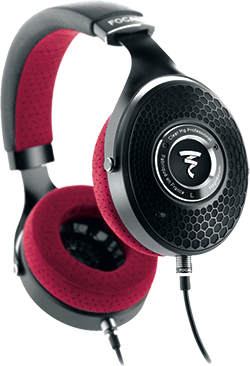 French brand Focal has announced the Clear Mg Professional (Clear Magnesium Professional) circumaural (open-back) headphones, a new model of the Clear Professional headphones with the addition of a magnesium (Mg) cone for improved dynamics and tonal balance.
While the first Clear Professional headphones used 40mm full-range loudspeakers with aluminium/magnesium M-shaped inverted domes, Clear Mg Professional has the same drivers in Magnesium, addressing the key criteria of lightness, rigidity and damping.
The new cone, combined with a frameless 25mm-diameter, 5.5mm copper voice coil is paired with an open grille inside the earcup to extend the high frequencies, and to follow the M profile of the cone more closely to further reduce adverse effects. With a 24kHz breakup, the high frequencies are extremely linear and the transient signals are retained.
The model is designed for work comfort as well as aesthetics. The headband has a constant curve with weight distributed evenly across the head. The solid aluminium yoke is covered with a structured black paint for sleek design and scratch resistance. Traditional vertically rotating mechanics have been moved within the headband for greater comfort. This allows for excellent sealing, while the red and black blends classic and modern looks.
A thermoformed carrying case shaped to fit the Clear Mg Professional, and with smaller dimensions, is woven in colours to match the headphones. Finally, two OFC 24 AWG copper cables are supplied.
More: www.focal.com