Shure has announced its new DuraPlex subminiature (5mm) omnidirectional lavalier and headset microphone – carrying the company's first IP57 certification rating, to protect it from dirt, dust, water and perspiration.
DuraPlex was developed with input from audio professionals to support the needs of film and television, theatre, broadcast, and corporate presentations. Its small form factor headset mic features the cable durability Shure's TwinPlex premium line of lavalier and headset microphones.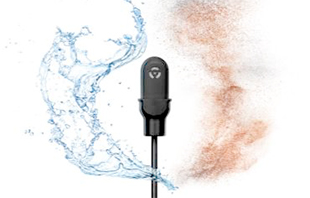 DuraPlex comprises the DL4 Omnidirectional Waterproof Lavalier Microphone and the DH5 Omnidirectional Waterproof Headset Microphone. Its IP57 rating and cable durability aim to offer the market an 'entirely new tier of audio performance and ruggedness'. The MEMs element yields consistent and neutral sound quality with low self-noise for vocal clarity in multiple environments.
'In developing DuraPlex, we wanted to provide a simple, consistent, reliable solution, ready to tackle any environment,' says Senior Global Product Manager, John Born. 'The neutral response, easy-to-use accessories and design, combined with best-in-class cable durability and waterproof element, quickly make DuraPlex an outstanding leader at this price tier.'
DuraPlex comes complete with the accessories needed to support simplified usability – a carrying case, snap-fit and foam windscreens, single tie clip, and a presence cap. DL4 also comes with a sticky mount to allow for quick applications, costume changes, and discrete placement under wardrobe with no impact on sound quality.
The cable is immune to kinks and memory effects, resulting in unmatched flex performance due to an innovative spiral construction with redundant shielding. Ideal for unpredictable, high-stakes environments like reality TV, theatre and fitness instruction, DuraPlex was tested to ensure uninterrupted audio in all conditions.
DuraPlex DH5 Headsets come in multiple colours (Tan, Cocoa, Black) with a sleek, brushed steel frame for quick and stable placement. DH5 pricing starts at US$399. DL4 Lavaliers are available in four colours (Black, Tan, Cocoa, White) and are available starting at US$299. Both products are now available worldwide.
More: www.shure.com