Mackie has expanded its MC Series headphone line with the addition of the MC-350 and MC-450 professional models.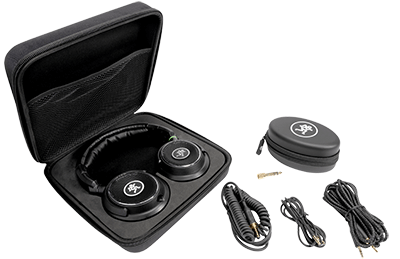 Both offer full range 20Hz-20kHz frequency response, boast Mackie's rugged design, and feature premium, real leather adjustable headbands and conforming ear pads to provide an ergonomic fit.
Like Mackie's MC-150 and MC-250, the MC-350 headphones feature a closed-back design for sound isolation in mixing, studio recording, focused critical listening, and personal settings. The MC-350's precision-tuned enclosure claims accurate bass, enhanced high-frequency detail, and a wide soundstage. Their 50mm transducers provide plenty of low end. Impedance is rated at 32Ω and sensitivity at 97dB.
MC-450 headphones employ an open-back design for a wider, deeper soundstage; reduced ear fatigue; high headroom; smooth midrange; and detail and clarity. The MC-450 features 42mm transducers, and its impedance is rated at 54Ω and sensitivity at 101dB.
Both new MC Series models come with premium cables with locking bayonet connectors, including a 9.8ft fabric-jacketed straight cable, a 4ft straight cable, and a 4ft straight cable with phone control and microphone. Each has a 3.5mm connector and comes with a gold-plated quarter-inch adapter and a premium protective case.
More: www.mackie.com/mc-series