V-Moda has announced its first reference studio headphone, the M-200, a result of an ongoing collaboration of Roland Corporation. The design has recieved Hi-Res Audio certification from the Japan Audio Society (JAS).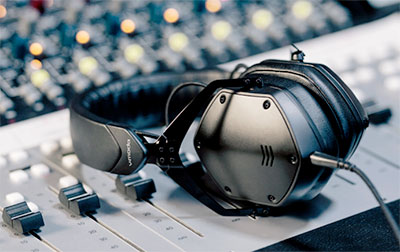 The M-200 features meticulous Japanese engineering and classic V-Moda shapes and materials for use by producers, musicians and sound professionals. Featuring 50mm drivers with neodymium magnets and CCAW voice coils, the M-200 reproduces a wide range of frequencies up to 40kHz.
With larger, flatter ea-rcup housings compared to the Crossfade series, the closed-back M-200 provides superior noise isolation. The practically indestructible yet flexible headband is enhanced by a broad design for improved weight distribution and hours of comfortable wear. Crafted for comfort and durability, the M-200's adjustable headband is flexible enough for easy single-ear monitoring yet strong enough to withstand years of use in the studio. Combined with the premium, sweat-resistant PU leather exterior and large, detachable magnetic memory foam cushions, the M-200 will feel like it's barely there.
The CliqFold hinge compactly folds the headphone to fit into V-Moda's re-designed Exoskeleton case, which now features smoother lines and more space to include extra cables and accessories. M-200 also comes with the new, single-sided balanced audio cable. While the closed headphone design ensures optimal noise isolation, the balanced cable reduces signal-to-noise ratio to produce a cleaner, more spacious sound, making M-200 reliable for important decisions while mixing, recording or composing music.
M-200 is accompanied by the additional aramid fibre-reinforced SpeakEasy 1-Button Cable with a built-in microphone for crystal-clear calls, and benefits from V-Moda's extensive customisation options.
More: www.v-moda.com