Designed for professional recording, Sterling Audio's S400 and S450 studio headphones feature high-definition transducers in a closed-back (circumaural) design that delivers the required isolation as well as the comfort needed for long sessions.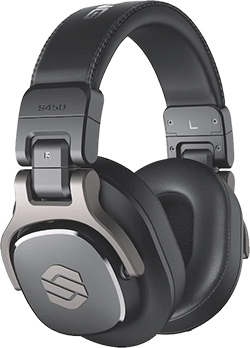 Both models provide removable, replaceable, and lockable ear cushions. Transportation and storage are easy and convenient, thanks to a foldable design with a collapsible earcup mechanism. The detachable 8ft headphone cable has a twist lock 13.5mm connector and quarter-inch adapter.
The Sterling S400's 40mm drivers use neodymium magnets and oxygen-free copper voice coils to deliver impressive output, up to 101dB SPL, over an extended 15Hz to 24kHz frequency range, even when using low-power, portable amp devices. They can handle up to 60mW of input power. The S450 uses 45mm drivers with neodymium magnets and copper-clad aluminium-wire voice coils to further extend the frequency response to 15Hz to 28kHz, suitable for demanding reference monitoring. The S450 can deliver up to 103dB SPL and handle up to 100mW of input power.
Both models offer rotatable ear cups for custom adjustment and convenient single-ear monitoring. The S400 ear cups can rotate up to 90°, while the S450 ear cups can rotate up to 180°.