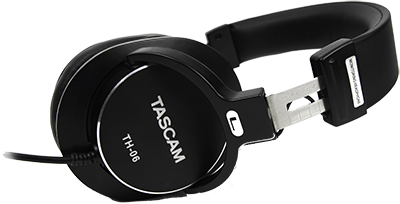 Tascam has announced its TH-06 Bass XL Monitoring Headphones, promising 'enhanced bass response for the smooth, deep lows needed for producing genres such as EDM, hip-hop, metal and R&B'.
The TH-06 employs a custom 45mm neodymium-magnet driver and features Bass XL voicing that delivers enhanced low frequency response, while claiming excellent clarity and minimal distortion.
These new headphones are lightweight and feature high-quality ear cups that can rotate through 180°. A sewing process around the edge tightly stitches them around a stainless steel frame for extra cushion. Combined with a strong, flexible, lightweight manganese headband, this ensures a comfortable fit. With their comfort, adjustability, distortion-free sound, and listening isolation, you can monitor for extended periods without ear fatigue.
The headphones' internal connections use OFO oxygen-free copper wire core. Their 3m cable gives you plenty of room to move around and comes with both a 1/8-inch (3.5 mm) connector and a quarter-inch (6.3mm) adapter.
Tascam TH-06 headphones are expected to be available in June 2019 at an anticipated street price of US$69.99.
More: www.tascam.com