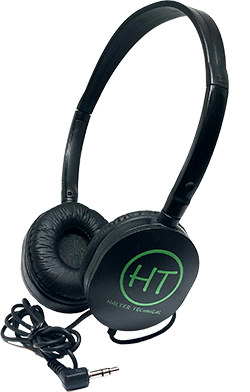 Los Angeles-based broadcast and video production product manufacturer Halter Technical has introduced the Scene Monitor headphone, reckoning to' fill the gap in the market for an inexpensive, quality headphone'.
The Scene Monitor is aimed at producers, directors, script supervisors, loggers and editors to wear for an entire workday without fatigue. The design claims to offer features never previously available in a single package. It features a single, straight 3ft cable that won't kink or catch like coiled cables. It is compatible with IFB receivers from Comtek, Sennheiser, Zaxcom, Lectrosonics, Shure, Wisycom and all devices with a stereo 3.5mm headphone jack.
Halter Technical has priced the Sceme Monitor to allow it to be purchased on a per-show or per-project basis. Included in the package is one headphone, one set of leather earpads, and one set of silicone earpads.
Scene Monitor is available in two different SKUs. Customers may purchase a single Scene Monitor (Model No. HTSM1) or as a 10-Pack (Model No. HTSM1-Pack). These options offer a convenient and cost effective way to outfit an individual, or a show or facility with a work headphone.
More: www.haltertechnical.com