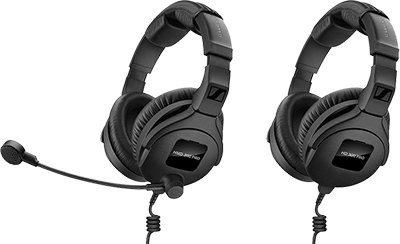 Sennheiser has launched the 300 Pro line of headsets, comprising two monitoring headphones and three headset/microphone combinations for camera work and backstage communications.
The range comprises the HD 300 PROtect (as HD 300 Pro, with selectable on/off ActiveGard; the HMD 300 Pro closed, circumaural communications headset, with selectable on/off ActiveGard, noise-compensated dynamic, super-cardioid boom mic (cable to be chosen separately according to production environment); the HMD 300-XQ-2 (as HMD 300Pro, with detachable cable featuring XLR-3 and quarter-inch jack connectors); and the HMD 301Pro (as HMD 300Pro but single-sided headset with side support).
The 300Pro series' detachable cables offer improved protection against handling noise, thanks to a small series of coils that acoustically decouple the cable from the headset. The series come with a rugged, bendable and twistable headband and customizable nameplates to feature a company logo on the ear cups. The new headset models also feature a noise-compensated, super-cardioid boom microphone for clear communications in loud production environments.