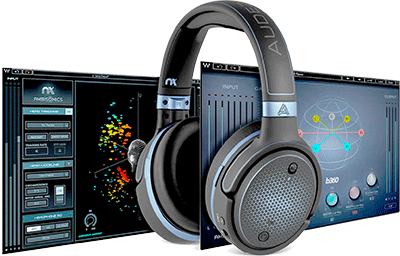 Audeze has released the Mobius headphone – the first 3D audio headphone – powered by Waves Audio Nx technology.
Audeze Mobius is intended for audio professionals working in the VR/360 creator market. Engineered for durability and comfort, the headphone is designed to replicate true, real-world listening experiences. Mobius is equipped with Audeze planar magnetic drivers, with built-in Nx technology to give full 360° head tracking for complete immersion in the 3D audio field. Nx also allows Audeze Mobius headphones to communicate with the Waves Nx Virtual Mix Room and Waves B360 Ambisonics Encoder plug-ins, designed specifically for VR/360/3D mixing and monitoring in Ambisonics formats, as well as for immersive 3D headphone monitoring of any stereo or surround content.
'Audeze headphones have achieved worldwide acclaim among music industry professionals and audiophiles alike for their amazing sound and for innovation that has kept them on the cutting edge of technology,' says Waves CEO and co-founder, Gilad Keren. 'With Mobius, Audeze is offering its award-winning audiophile sound with integrated Waves Nx head tracking, sound localization, and virtual room emulation technology for a monumental game-changer within audio.'
'Waves' 360 Ambisonics Tools include the B360 Ambisonics Encoder and the Nx Virtual Mix Room plug-ins, which seamlessly interact with the Audeze's Planar headphone for diverse uses, be they in gaming, 360/VR mixing or mixing in non-acoustic environments, and from surround monitoring to consumer-listening experience,' adds Audeze CEO and co-founder, Sankar Thiagasamudram.
'We do a lot of audio for 360 and VR,' says Lucas Wilson, founder and Executive Producer at Supersphere. 'The Mobius streamlines those audio workflows and solves a major pain-point with audio creation for VR. It allows you to mix, monitor and modify ambisonics and regular mono/stereo/multichannel audio in an ambisonics field, with full head-tracking, and represents a huge step forward in the audio-for-VR world.'
Key features:
Powerful, fully-customizable Planar Magnetic Headphone (100mm Planar Transducer).
USB-C, USB-A, analogue (3.5mm) and Bluetooth.
Integrated NX technology with head-tracking, Virtual room emulation, and 3D sound localisation.
Supports 2.0, 5.1, 7.1 3D audio in real time.
Supports Ambisonics for VR/AR content creation with the B360 Ambisonics Encoder & the Nx Virtual Mix Room plug-ins.
Anatomy Calibration.
10+ hours of battery life .
Audeze Mobius headphones with built-in Nx technology will be offered in a standalone package, and also as part of a Creators Edition that includes the Waves Nx Virtual Mix Room and Waves B360 Ambisonics Encoder plug-ins. Shipping begins in Q2 2018.