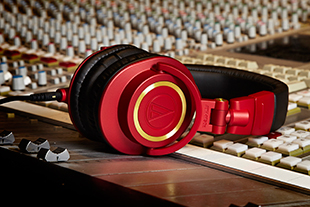 Audio-Technica has released a limited edition of its M50x studio monitor headphone, the first special release of the M Series model.
Widely used by audio engineers, the M50x claims solid low-frequency definition, with its proprietary 45mm drivers ensuring clarity across an extended frequency range. Sound isolating earcups, folding design and robust construction make the M50x well suited to recording, tracking, mixing, DJ monitoring and personal listening.
Finished in bold red with gold accents, the M50xRD follows in the footsteps of previous well-received limited versions of the original M50. As with the standard M50x, the new model ships in a protective carrying case with a choice of three detachable cables – 1.2m and 3m straight and a 1.2m to 3m coiled – and gold-plated screw-on quarter-inch adaptor.
The Audio-Technica M50xRD is now available with a recommended RRP of £149/€169 inc VAT.
More: www.audio-technica.com