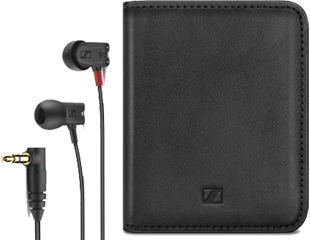 Sennheiser has released a new iteration of its IE 800 ear-canal headphones used by live sound engineers.
The new IE 800 S features improved acoustics with brilliant trebles and a refined bass sound. The design uses Comply memory foam ear tips, and a wider choice of cables.
Featuring a refined version of Sennheiser's Extra Wide Band (XWB) driver, the design uses proprietary 7mm transducers and the patented dual-chamber absorber (D2CA) system, neutralising the 'masking effect' – when the human ear cannot perceive high frequency sounds at a low volume if louder sounds in a lower frequency range are occurring at the same time. The absorber system removes the energy from any masking resonances to prevent unwanted peaks, making even the finest nuances of sound audible. To facilitate cleaning, the earphones employ two protection meshes - one in the earpad and one in the nozzle.
Comply ear tips ensure a custom fit in the ear canal for comfort and attenuation of ambient noise.
In addition to the standard cable with a 3.5mm jack, the new IE 800 S includes 4.4mm Pentaconn and 2.5mm balanced connectors ergonomically designed viscoelastic memory foam ear tips from
The IE 800 S is available from Q3 2017 for €999 MSRP.
More: www.sennheiser.com