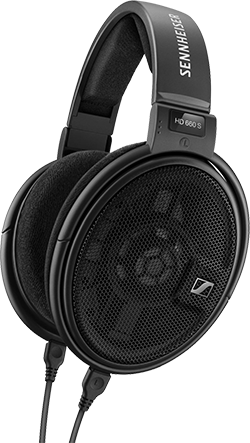 Taking its cue from the HD 650 model that proved popular with studio engineers, Sennheiser's HD 660 S open dynamic headphone offers a lower impedance (150Ω) and low harmonic distortion, using a proprietary transducer for improved control of diaphragm movement with a precision stainless steel fabric.
The transducers are selected and paired by hand to guarentee consistently narrow (±1dB) tolerances, while their extremely light aluminum voice coils ensure the highest impulse fidelity. Elliptical ear cups are shaped to follow the anatomy of the ear, with thick padding on the headband and the replaceable ear cushions.
The detachable connecting cables made from highly conductive OFC copper offer either a 6.35 m stereo plug or a balanced 4.4mm Pentaconn stereo plug, with a 6.35mm to 3.5mm adapter also provided.
The HD 660 S will be available from Q3 2017 for €499 MSRP.
More: www.sennheiser.com