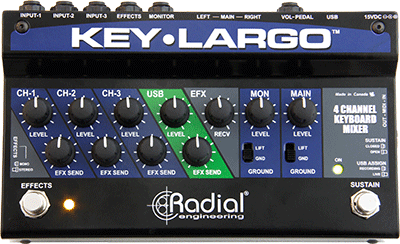 Radial Engineering has released the Key-Largo, a mixer and digital interface designed specifically for connecting keyboard set-ups to a PA system without the use of DI boxes.
The Key-Largo features quarter-inch analogue inputs for connecting up to three stereo or mono keyboards, as well as a USB interface for use with soft synths or computer-based audio. All inputs are equipped with an individual level control, and separate send controls access a shared effects loop. This stereo loop is activated using a dedicated footswitch that can be set to mono operation for use with standard guitar-style pedals. The effects return is equipped with its own level control, allowing the signal to be mixed with the direct sound. A built-in momentary sustain footswitch is also provided, allowing the Key-Largo to act as a standalone sustain pedal. Finally, a dedicated connection allows the player to use their own volume pedal for control over the stereo bus.
The Key-Largo output section includes stereo quarter-inch TRS outputs to feed a personal monitor system and transformer isolated XLR mains. The USB interface is equipped with 192kHz, 24-bit converters and can be used for both playback and as a recording interface to capture the keyboard mix live or in the studio. It even has Midi connectivity, accommodating the use of standard keyboards as software controllers.
The Key-Largo is now shipping at a street price of US$379.99.
More: www.radialeng.com